Dive into the chilling depths of horror on Hulu, where a diverse collection awaits enthusiasts. From psychological thrillers like 'The Lodge' to genre-bending World War II tales like 'Shadow in the Cloud,' Hulu's horror repertoire offers a nuanced exploration of fear. Societal commentary takes center stage with films like 'Hatching' and 'Funhouse,' addressing beauty standards and fame obsession. Iconic returns, such as 'Hellraiser' and the anthology finale 'Into the Dark: Pure,' provide fresh perspectives on classic horrors. Hulu's commitment to horror satire and cultural critique shines in 'Bad Hair' and 'Prey,' offering unique takes on '80s music television and expanding the Predator franchise. Beyond conventional scares, Hulu's horror selection promises a curated journey through the diverse realms of fear and suspense.
The Boogeyman (2023)
Hulu's horror selection offers an eclectic mix of spine-chilling tales, from classics to contemporary releases. A standout in the array is 'The Boogeyman' (2023), directed by Rob Savage and featuring Sophie Thatcher and Vivien Lyra Blair. Released on June 2, 2023, this house-under-siege horror follows two sisters haunted by a demonic entity, delving into the theme of grief. Despite its short run-time, the film captivates with an intense atmosphere and a stellar cast, making it a must-watch for horror enthusiasts.
In a refreshing departure from conventional horror, 'The Boogeyman' skillfully intertwines scares with a poignant exploration of loss, delivering a gripping narrative that lingers beyond the screen. The directorial prowess of Rob Savage, coupled with standout performances, ensures that this horror gem stands tall among Hulu's offerings.
Appendage
Another noteworthy addition to Hulu's horror repertoire is 'Appendage,' a dark tale directed by Anna Zlokovic. Released on October 2, 2023, this film weaves together humor and horror, following fashion designer Hannah's (Hadley Robinson) battle with imposter syndrome. As her struggles escalate, a physical manifestation, the titular appendage, takes shape. Zlokovic's direction, coupled with a stellar cast including Emily Hampshire and Brandon Mychal Smith, elevates 'Appendage' beyond a typical horror narrative.
'Appendage' masterfully navigates the thin line between horror and comedy, offering a unique take on societal pressures and mental health. This film is a testament to Hulu's commitment to diverse and thought-provoking horror experiences, ensuring viewers a rollercoaster of emotions from laughter to spine-tingling fear.
Clock (2023)
As we delve deeper into Hulu's horror vault, 'Clock' emerges as a psychological thriller that transcends traditional horror boundaries. Directed by Alexis Jacknow and released on April 28, 2023, this film provides a gripping exploration of societal pressures on women surrounding reproduction. Centered around Ella (Dianna Agron), a woman facing relentless pressure to conform, 'Clock' parallels modern psychological horror classics like 'Midsommar' and 'Hereditary.' Jacknow's storytelling prowess ensures that 'Clock' isn't merely a horror film but a profound commentary on the challenges women face in society.
The thematic richness of 'Clock' is complemented by Dianna Agron's compelling performance, making it a standout addition to Hulu's horror lineup. By skillfully blending horror with societal critique, 'Clock' invites viewers to confront their own fears and anxieties, elevating it to more than just a typical fright fest.
Fresh (2022)
In the horror-thriller realm, 'Fresh' distinguishes itself with a narrative that goes beyond the expected. Directed by Mimi Cave and released on March 4, 2022, this film introduces Noa (Daisy Edgar-Jones), a woman entangled in a chilling secret: her partner's involvement in selling women's body parts to cannibals. 'Fresh' skillfully weaves elements of horror and thriller, keeping audiences on the edge of their seats with unexpected twists.
The brilliance of 'Fresh' lies in its ability to blend horror with societal commentary, exploring the darkest corners of modern relationships. Daisy Edgar-Jones delivers a standout performance, navigating the complexities of her character with nuance. 'Fresh' is a testament to Hulu's commitment to pushing the boundaries of horror, offering viewers a visceral experience that transcends the genre's conventions.
Funhouse (2021)
Turning the horror genre on its head, 'Funhouse,' directed by Jason William Lee and released on May 28, 2021, stands as a darkly comedic exploration. The film follows Riley in a quest to find her missing brother, immersing herself in a Big Brother-style reality show with a macabre twist. Featuring Valter Skarsgård and Khamisa Wilsher, 'Funhouse' weaves together horror and satire, providing a thought-provoking commentary on society's obsession with fame and voyeurism.
Intricate mythology and graphic imagery define 'Funhouse,' making it a standout entry in Hulu's horror catalog. Jason William Lee's storytelling prowess ensures that the film not only delivers thrills but also prompts reflection on the consequences of our societal obsessions.
Hellraiser
Director David Bruckner's take on Clive Barker's classic horror, 'Hellraiser,' adds a thrilling new chapter to the beloved franchise. Released on an undisclosed date, the film follows Riley (Odessa A'zion) on a quest to uncover the mystery behind her missing brother, delving into the enigmatic puzzle box and the iconic horror figure, Pinhead. With dark and gory imagery, 'Hellraiser' builds on the franchise's legacy while introducing fresh elements to captivate both new and existing fans.
'Hellraiser' represents Hulu's dedication to revitalizing iconic horror franchises. It successfully combines elements of terror, mystery, and a touch of nostalgia, providing a gripping experience for horror enthusiasts seeking a blend of the classic and the contemporary.
Bad Hair (2020)
In the horror-comedy landscape, 'Bad Hair,' directed by Justin Simien and released on October 23, 2020, stands out as a clever exploration of cultural discrimination. Set in the late 1980s music television industry, the film follows an ambitious woman navigating the challenges of climbing the career ladder. Cleverly using horror as a satirical lens, 'Bad Hair' features recognizable faces such as Elle Lorraine, Lena Waithe, and Vanessa Williams.
Simien's film combines elements of horror, comedy, and social commentary, making it a unique addition to Hulu's horror collection. By addressing cultural issues through an entertaining and thought-provoking narrative, 'Bad Hair' proves that horror can serve as a powerful medium for social critique.
Prey (2022)
Released on August 5, 2022, 'Prey' expands the Predator franchise with a unique origin story set in the Comanche Nation. Directed by Dan Trachtenberg, the film introduces Naru (Amber Midthunder), a warrior confronting a new enemy—the Predator. With a runtime of 100 minutes, 'Prey' combines elements of sci-fi, action, and horror to deliver an origin tale that captivates both fans and newcomers. The film's fast-paced action and a stellar cast contribute to its position as a thrilling addition to the Predator legacy.
'Prey' showcases Hulu's commitment to revitalizing established franchises while bringing fresh perspectives to beloved characters. Amber Midthunder's compelling performance adds depth to the narrative, making 'Prey' a must-watch for both Predator enthusiasts and general horror audiences.
Shadow in the Cloud (2021)
January 1, 2021, marked the release of 'Shadow in the Cloud,' a World War II thriller with a genre twist that places it among the best female-centric science fiction horror films. Directed by Roseanne Liang, the film follows Flying Officer Maude Garrett (Chloe Moretz) as she grapples with both wartime threats and an unexpected alien monster. With a runtime of 83 minutes, 'Shadow in the Cloud' offers a unique blend of action, war drama, and horror.
Liang's film is notable for its portrayal of a strong female protagonist in a wartime setting, challenging genre conventions. 'Shadow in the Cloud' adds a refreshing twist to the horror genre, providing viewers with a compelling narrative that transcends traditional war and science fiction tropes.
Titane
Directed by Julia Ducournau, 'Titane' delivers an ultimately sweet yet bizarre tale centered on a woman with a titanium plate in her head. The film explores themes of family, identity, and body horror. Ducournau's highly original vision, coupled with a committed cast, makes 'Titane' a standout addition to Hulu's horror lineup.
'Titane' aligns with Hulu's commitment to showcasing innovative and unconventional horror narratives. Ducournau's film challenges traditional genre boundaries, offering viewers a one-of-a-kind cinematic experience.
Run (2020)
In 'Run,' a Misery-esque horror movie, director Aneesh Chaganty explores the theme of a mother's overwhelming love. Released in 2020, the film follows Chloe (Kiera Allen), a homeschooled high school senior eager to leave for college. However, her mother (Sarah Paulson) harbors a sinister secret that threatens Chloe's desire for independence. 'Run' delivers suspense and psychological horror, showcasing Hulu's diverse horror offerings.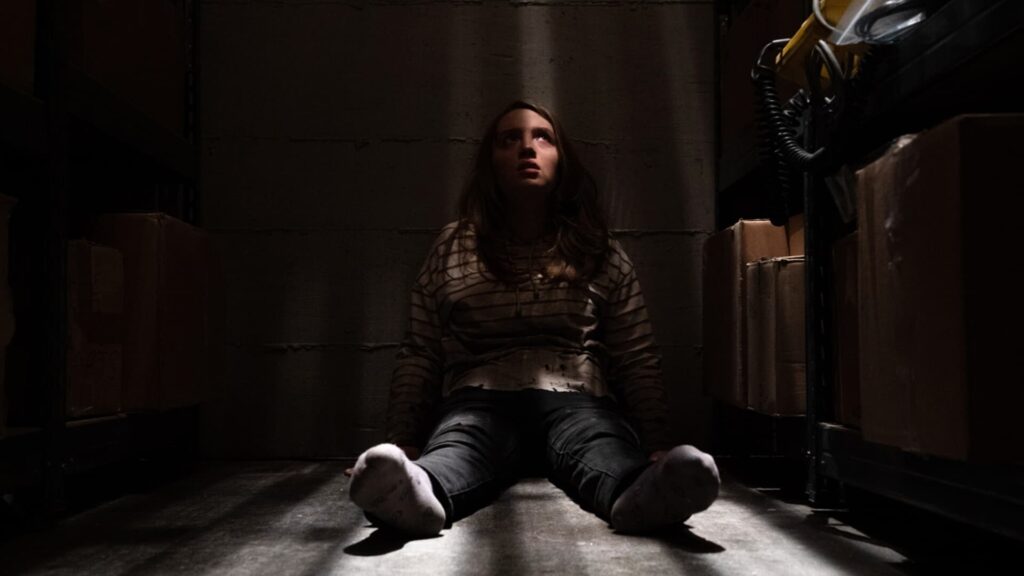 'Run' contributes to Hulu's commitment to delivering unsettling and psychologically charged horror. Chaganty's film taps into the complexities of maternal relationships, offering viewers a gripping and suspenseful experience.
Censor (2021)
In 'Censor,' director Prano Bailey-Bond presents a unique perspective by making the hero of a horror film the one who edits and censors films for the ratings board. Released in 2021, the film follows Enid (Niamh Algar), a film censor haunted by the disappearance of her sister. As she delves into the world of 'video nasties,' 'Censor' weaves a haunting and engaging narrative, contributing to Hulu's diverse horror catalog.
'Censor' reflects Hulu's commitment to showcasing horror films that offer a fresh take on the genre. Bailey-Bond's film adds a layer of psychological depth to the horror experience, making it a standout choice for viewers.
False Positive (2021)
Directed by John Lee, 'False Positive' provides a feminist take on the terrors of pregnancy and motherhood. Released in 2021, the film follows Lucy (Ilana Glazer), who becomes pregnant after seeking fertility treatment. As paranoia sets in, Lucy questions the intentions of her doctor (Pierce Brosnan) and her husband (Justin Theroux). 'False Positive' builds uneasiness through Lucy's perspective, offering a chilling exploration of maternal anxieties.
'False Positive' aligns with Hulu's commitment to exploring horror through diverse lenses. Lee's film combines horror with social commentary, making it a thought-provoking addition to Hulu's horror selection.
Little Monsters (2019)
A delightful zombie comedy directed by Abe Forsythe, 'Little Monsters' stars Lupita Nyong'o as a kindergarten teacher navigating a zombie apocalypse with her young students. Released in 2019, the film combines humor, heart, and horror. Nyong'o's standout performance, coupled with the film's well-balanced tone, makes 'Little Monsters' a refreshing addition to Hulu's horror collection.
'Little Monsters' showcases Hulu's willingness to explore diverse horror subgenres. Forsythe's film offers a lighthearted take on the zombie apocalypse, providing viewers with a unique blend of laughs and scares.
Conclusion
Hulu emerges as a haven for horror aficionados, offering a carefully curated selection that transcends traditional scares. The platform's commitment to diverse narratives, from psychological depth in 'The Lodge' to societal commentary in 'Hatching' and 'Funhouse,' ensures a rich and immersive experience. Iconic returns like 'Hellraiser' and the anthology finale 'Into the Dark: Pure' showcase Hulu's dedication to reinventing classic horrors. The blend of horror satire and cultural critique in 'Bad Hair' and 'Prey' adds a layer of innovation. Hulu's horror collection goes beyond the expected, providing a journey through fear that encompasses psychological nuances, societal reflections, and genre-bending narratives. For those seeking a thrilling escape into the unknown, Hulu's horror offerings promise an unforgettable exploration of the depths of terror.
Stream Smarter with FolksMedia: Discover Similar Movies and TV Shows
FolksMedia is an all-in-one app revolutionizing the way users engage with movies and TV shows across streaming platforms. This comprehensive tool not only connects users to their favorite content but also provides personalized recommendations based on their subscriptions. What sets FolksMedia apart is its integrated remote control feature, ensuring a seamless streaming experience for various devices. Users can effortlessly navigate and control their TV streaming directly from their smartphones. Additionally, FolksMedia introduces a rewarding community aspect, encouraging users to interact daily, review content, build watchlists, refer friends, and contribute to bug reporting, creating an engaging space for all entertainment enthusiasts.
Other Articles