Who wants to be scared tonight? While dedicated streaming services cater to horror enthusiasts, Amazon Prime Video offers a diverse array of genre hits and indie darlings. From classics by Tobe Hooper and Dario Argento to newer indie studio releases, Prime Video keeps its subscribers informed about the best horror movies available. This regularly updated list ensures you're in the know about the latest terrifying additions. So, turn the lights off and lock the doors.
The Blair Witch Project (1999)
'The Blair Witch Project' is a groundbreaking found-footage horror film directed by Daniel Myrick and Eduardo Sanchez. The fictional story follows three student filmmakers hiking into the Black Hills to document the Blair Witch myth. Shot on a shoestring budget, the film's immersive and realistic approach ignited a cultural phenomenon, pioneering the found-footage subgenre and leaving audiences questioning the boundary between fiction and reality.
Candyman (2021)
Directed by Nia DaCosta, 'Candyman' is a compelling sequel that weaves socio-political commentary into its horror narrative. Updating the original film's exploration of racism and inequality, the story introduces artist Anthony to the legend of Candyman. DaCosta's visually striking direction and thematic depth make this horror film both a chilling experience and a thought-provoking commentary on urban legends and their enduring impact.
Carnival of Souls (1962)
Herk Harvey's 'Carnival of Souls' is a classic horror film that follows Mary Henry, the sole survivor of a car accident with mysterious circumstances. Settling in Utah, Mary's new life is haunted by visions of a fiendish man and draws her to a deserted carnival. The film's eerie atmosphere, minimalist style, and psychological tension contribute to its status as a cult classic in the horror genre.
Crawl (2019)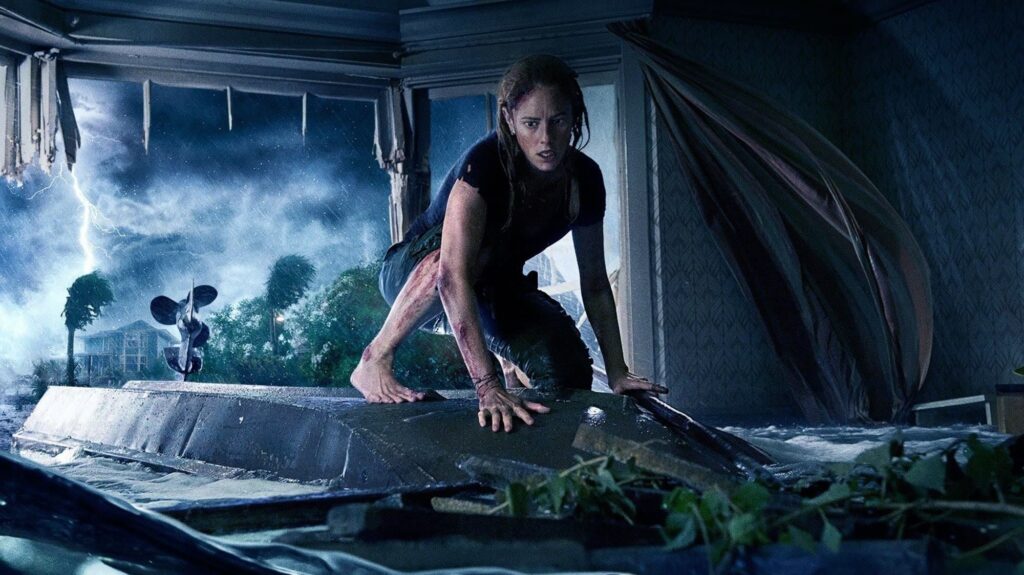 Directed by Alexandre Aja, 'Crawl' delivers intense survival horror during a massive hurricane in Florida. The film follows Haley, who ignores evacuation orders to search for her injured father, leading to a harrowing struggle against rising floodwaters and gigantic alligators. Aja's skillful pacing and suspenseful sequences make 'Crawl' a gripping and visceral experience.
Hell House LLC (2015)
Stephen Cognetti's 'Hell House LLC' is a found-footage horror film that transcends its minimalist concept. Following a haunted house crew that chooses an ominous location, the movie combines documentary-style storytelling with well-executed scares. The film's use of practical setups, like shifting props and unsettling clown costumes, elevates it above typical found-footage fare.
Hellraiser (1987)
Clive Barker's 'Hellraiser' is a landmark in horror cinema, adapting Barker's novella 'The Hellbound Heart.' Barker's directorial debut introduces the iconic Pinhead, exploring a puzzle box that opens a portal to Hell. The film's visceral and boundary-pushing horror, coupled with its exploration of desire and pain, solidifies 'Hellraiser' as a genre classic with enduring impact.
High Tension (2005)
Directed by Alexandre Aja, 'High Tension' (original title 'Haute Tension') is a French slasher film known for its intense and relentless narrative. The story follows friends Alex and Marie, whose countryside visit takes a horrific turn when a psychotic truck driver brutally attacks their family. Aja's unflinching approach to violence and suspense builds a tension that keeps audiences on the edge of their seats.
Hostel (2006)
Eli Roth's 'Hostel' is a key film in the mid-2000s subgenre known as torture porn. The movie follows American travelers lured into a Slovakian hostel, only to become victims of a sadistic organization. Roth's film is an underrated cautionary tale, exploring the dangers of naive tourism and pushing the boundaries of graphic violence in mainstream horror.
Invasion of the Body Snatchers (1978)
Philip Kaufman's remake of 'Invasion of the Body Snatchers' is a masterclass in suspense and paranoia. The film, set in San Francisco, follows health inspector Matthew Bennell and his colleague Elizabeth as they discover an alien invasion replacing humans with emotionless duplicates. Kaufman's atmospheric direction and eerie imagery create a chilling reflection on conformity and the loss of individuality.
Jacob's Ladder (1990)
Adrian Lyne's 'Jacob's Ladder' is a psychological horror film that delves into the fragmented mind of Vietnam War veteran Jacob Singer. Plagued by hallucinations and disturbing flashbacks, Singer struggles to distinguish reality from nightmare. Lyne's visually arresting direction and Tim Robbins' compelling performance elevate 'Jacob's Ladder' into a haunting exploration of trauma and the human psyche.
A Knock at the Cabin (2023)
M. Night Shyamalan's 'A Knock at the Cabin' takes audiences on a tense and unpredictable journey during a family vacation. When a young girl and her parents are held hostage by armed strangers, they face an unthinkable choice to avert an apocalypse. Shyamalan, known for his twist-filled narratives, crafts a suspenseful tale that combines horror with moral dilemmas.
The Last Exorcism (2010)
Daniel Stamm's 'The Last Exorcism' blends found-footage elements with demonic horror. Cotton Marcus, a cleric facing remorse for years of deception, exposes himself to true evil when he encounters Nell, a girl believed to be possessed. The film's documentary-style approach adds authenticity to the suspenseful exorcism narrative.
Murder Party (2007)
Jeremy Saulnier's debut, 'Murder Party,' may not fit traditional horror molds but introduces his signature style. The film follows a loner's decision to attend a Halloween party, leading to unexpected and gory consequences. Saulnier's dark humor and skillful pacing set the foundation for his future success in the horror genre.
Nope (2022)
Jordan Peele's 'Nope' is a visually stunning and thought-provoking exploration of a brother-sister duo investigating UFO sightings. With nods to Spielbergian tropes and a blend of family drama, sci-fi, and cosmic horror, Peele's film offers a multifaceted narrative that challenges traditional genre conventions.
Phantasm (1979)
Don Coscarelli's 'Phantasm' is a cult classic that combines horror with surreal and supernatural elements. In a small town plagued by mysterious deaths, young Mike investigates the Tall Man's role in reanimating the dead. The film's iconic silver sphere and chilling atmosphere contribute to its enduring legacy in the horror genre.
Saint Maud (2019)
Rose Glass's 'Saint Maud' is a psychological horror film centered around a reclusive nurse, Maud, and her mission of religious devotion. Tasked with caring for a cancer-ridden former dancer, Maud's fervent faith takes a dark turn, leading to a chilling exploration of obsession and salvation.
Scary Stories to Tell in the Dark (2019)
Andre ovredal's 'Scary Stories to Tell in the Dark' adapts the beloved children's book series into a visually captivating horror film. Set in the small town of Mill Valley, the film weaves together terrifying tales from the Bellows family, blurring the line between fiction and reality for a group of unsuspecting teens.
Smile (2022)
Parker Finn's 'Smile' may not cater to horror purists, but its exploration of trauma and macabre narrative elements create a gruesome and dreadful thrill ride. The film, blending curse movie dynamics with psychological-supernatural horror, successfully builds and reproduces a sense of dread through jump scares and an unrelenting atmosphere.
Totally Killer (2023)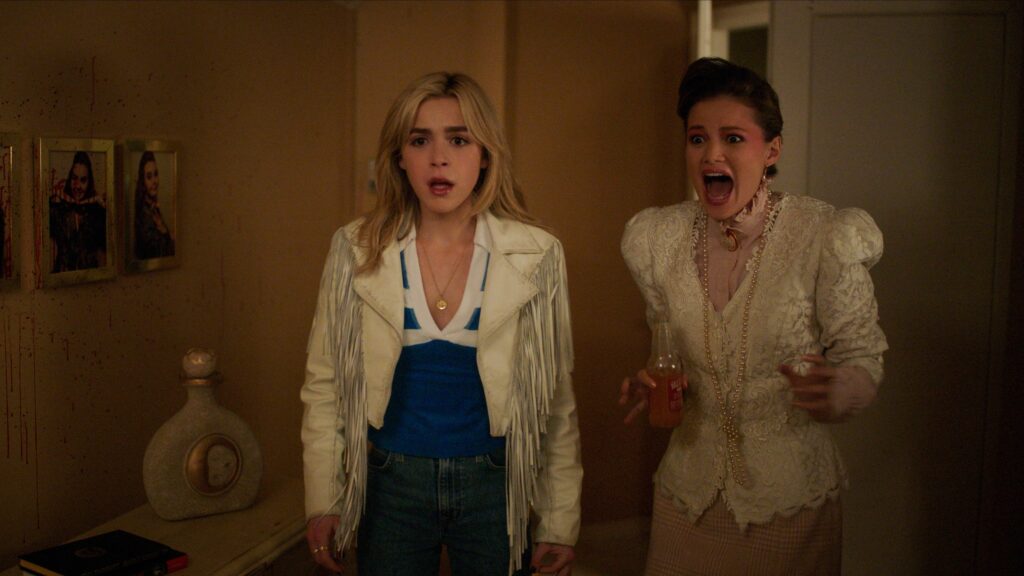 Directed by Nahnatchka Khan, 'Totally Killer' pays homage to '80s classics while embracing a self-referential and nostalgic tone. Geared towards younger audiences, the film combines horror with the trappings of a bygone era, offering a mix of silly, self-aware humor and bonds between its leads.
XX (2017)
'XX' stands out as a rare horror anthology featuring shorts exclusively written and directed by women. The film, showcased at Sundance, offers a diverse range of stories from directors like Karyn Kusama and Annie Clark (St. Vincent). The anthology format allows for a rollercoaster of horror experiences, with each segment providing a unique perspective in a genre traditionally dominated by male voices.
Conclusion
Amazon Prime Video offers a diverse and extensive collection of horror movies, catering to a wide range of tastes within the genre. From groundbreaking classics like 'The Blair Witch Project' and 'Hellraiser' to contemporary hits like 'Candyman' (2021) and 'Nope' (2022), the platform provides a rich selection that spans decades and styles. The horror enthusiasts subscribed to Prime Video are treated to a carefully curated list that includes psychological thrillers like 'Jacob's Ladder,' survival horror in 'Crawl,' and supernatural tales like 'Phantasm.'
The platform's commitment to regularly updating its horror catalog ensures that subscribers stay informed about the best offerings in the genre. Whether one is a fan of found-footage scares, atmospheric classics, or modern social commentary embedded in horror, Prime Video has something to offer. The inclusion of lesser-known gems like 'Hell House LLC' and 'Murder Party' demonstrates a dedication to providing not just mainstream hits but also hidden treasures for the discerning horror aficionado.
Stream Smarter with FolksMedia: Discover Similar Movies and TV Shows
FolksMedia, a user-friendly app, connects movie and TV show lovers to their favorites across popular streaming services like Netflix, Amazon Prime Video, Disney+, Hulu and more. Offering personalized recommendations, users can explore curated content based on their subscriptions. The app's standout feature is a built-in remote control compatible with smart TVs and streaming devices, enhancing convenience. FolksMedia rewards users for daily engagement, encouraging reviews, watchlists, referrals, and bug reporting, fostering an interactive community of movie and TV show enthusiasts. With its comprehensive approach and engaging features, FolksMedia is a must-have for streamers seeking seamless content discovery and enhanced viewing experiences.
Other Articles