For countless nights, Netflix has served as a sanctuary for horror movie enthusiasts, offering a spine-chilling variety of films to lose sleep over. Its vast collection features everything from indie gems to timeless classics, including works from some of the most renowned names in horror filmmaking. Not just a host, Netflix has also contributed to the genre through its impressive roster of original releases. As we delve deeper into this realm of fear and suspense, brace yourself to encounter some truly terrifying nightmares currently streaming on Netflix. Read on, if you dare…
Run Rabbit Run (2023)
Run Time: 1 hr 40 min | Director: Daina Reid
Cast: Sarah Snook, Lily LaTorre, Damon Herriman, Greta Scacchi
Run Rabbit Run is a 2023 Australian horror film written by Hannah Kent, based on the novel of the same name by Kate Hope Day. The film stars Sarah Snook as Sarah, a fertility doctor who begins to have strange visions after the disappearance of her young daughter Mia. As the visions become more intense, Sarah begins to question her own sanity and whether or not she is responsible for Mia's disappearance
Old People (2022)
Run Time: 1 hr 30 min | Director: Andy Fetscher
Cast: Melika Foroutan, Stephan Luca, Anna Unterberger
Old People is a scary and bloody movie from director Andy Fetscher, and it's kind of the opposite of Children of the Corn. This German movie stars Melika Foroutan, Stephan Luca, and Anna Unterberger. The story takes place in a small town during a big storm. It's about a young mom who comes with her kids to her sister's wedding. The people from a nearby retirement home use the storm as a chance to get out and start killing in a violent rage. The movie shows lots of scary scenes and uses common horror movie ideas, but it also talks about getting older, love, and how society sometimes doesn't care about people. All this happens while a family tries to protect themselves from the old people.
Hellhole (2022)
Run Time: 1 hr 31 min | Director: Bartosz M. Kowalski
Cast: Piotr Zurawski, Wojciech Niemczyk, Olaf Lubaszenko, Sebastian Stankiewicz
Bartosz M. Kowalski directed and co-wrote with Mirella Zaradkiewicz a scary movie called Hellhole. The film tells the spooky story of mysterious events happening in a Polish monastery in the late 1980s. The movie, featuring Wojciech Niemczyk, Piotr Zurawski, and Olaf Lubaszenko, is about a man who investigates the sudden disappearances of people living there. To find answers, he goes undercover in the distant religious group. The plot of Hellhole shows the investigator digging deeper into the troubled people living in the monastery who are seeking help from the religious leaders, and they're cut off from the rest of the world
Incantation (2022)
Run Time: 1 hr 51 min | Director: Kevin Ko
Cast: Tsai Hsuan-yen, Huang Sin-ting, Kao Ying-hsuan Sean Lin, RQ
Found footage is a common style in horror movies, and Incantation makes good use of it. This movie was a big hit in Taiwan and is based on a real event there where a family said they were taken over by gods from Chinese folk religion, which led to the death of the oldest daughter. In the movie version, Li Ronan (played by Tsai Hsuan-yen) breaks a religious rule and has to save her little daughter from a dangerous old curse she accidentally set off. Incantation, with its creative storytelling and good acting, provides some truly spooky moments.
Don't Listen (2020)
Run Time: 1 hr 38 min | Director: Angel Gomez Hernandez
Cast: Rodolfo Sancho, Ana Fernandez, Ramon Barea, Belen Fabra, Lucas Bias, Nerea Barros
This eerie Spanish movie about a haunted house begins with intense action right away. A boy tells a social worker about strange voices he hears in his new house. The weird whispers through his walkie-talkie eventually make the family realize something's not right. Looking into the house's past uncovers a chilling history. Although the movie follows a standard haunted house story, its unique approach sets it apart. Its clever use of color, similar start and end scenes, and daring character development make it stand out among similar films.
His House (2020)
Run Time: 1 hr 33 min | Director: Remi Weeks
Cast: Sope Dirisu, Wunmi Mosaku, Malaika Wakoli-Abigaba, Matt Smith, Javier Botet
"His House" is a scary Netflix movie about a Sudanese couple, played by Wunmi Mosaku and Sope Dirisu, seeking refuge in England while haunted by a "night witch." Their struggles to adapt and overcome past traumas are both terrifying and touching. The horrors they face at night, coupled with the issues they deal with in their new society, create a sense of desperation. The movie, directed by Remi Weeks, uses unique visual effects and skillful editing to create intense and emotional scenes. It's a one-of-a-kind horror film that is both horrifying and distinctive.
The Platform (2019)
Run Time: 1 hr 34 min | Director: Galder Gaztelu-Urrutia
Cast: Iván Massagué, Antonia San Juan, Zorion Eguileor, Emilio Buale, Alexandra Masangkay
The Platform is a very creative and shocking futuristic thriller that came out recently. The movie is about a group of people who live in a tall concrete building. Some are there voluntarily, others as a punishment for crimes. They get food through a platform that starts at the top. Those at the top can eat as much as they want, while those at the bottom get almost nothing. Every month, where they live in the building changes randomly. The story is full of suspense and can be very graphic. Even though it's tough to watch, the great storytelling and acting make it really interesting. The themes and questions it brings up are very important today.
Eli (2019)
Run Time: 1 hr 38 min | Director: Ciaran Foy
Cast: Charlie Shotwell, Kelly Reilly, Max Martini, Lili Taylor, Sadie Sink, Deneen Tyler
"Eli" is a thrilling haunted house film that flips the script towards the end. The story revolves around a young boy, Eli, who is allergic to nearly everything. He's taken to a treatment center to cure his allergies, but his health deteriorates and he starts seeing ghosts. His spooky experiences and struggle to understand what's happening make this movie scary. The film's ending is surprising, with strong visuals, special effects, and a touching family story. It also hints at a potential sequel.
Malevolent (2018)
Run Time: 1 hr 29 min | Director: Olaf de Fleur Johannesson
Cast: Florence Pugh, Ben Lloyd-Hughes, Scott Chambers, Georgina Bevan
Florence Pugh, known from Puss in Boots: The Last Wish, and Ben Lloyd-Hughes, from Me Before You, play a brother-sister duo pretending to hunt ghosts in the movie Malevolent. Directed by Olaf de Fleur Johannesson, the movie is based on a novel written by Ben Ketai and Eva Konstantopoulos. Pugh's amazing acting as a fake psychic in her ghost-hunting scam is perfect and one of the best parts of this spooky movie. If you like haunted house stories, you'll enjoy Malevolent – it's both scary and thrilling
The Perfection
Run Time: 1 hr 30 min | Director: Richard Shepard
Cast: Allison Williams, Steven Weber, Alaina Huffman
The Perfection is a movie full of surprises and it's about classical musicians trying to be perfect at what they do. Charlotte, a cello player, comes back to a high-level music school after leaving to look after her sick mother. At the school, she becomes friends with a new talented student, but only to give her drugs and trick her into cutting off her own hand. The story gets more and more unpredictable from there, but it's definitely worth watching for an hour and a half.
Apostle (2018)
Run Time: 2 hr 10 min | Director: Gareth Edwards
Cast: Dan Stevenson, Michael Sheen, Mark Lewis Jones, Paul Higgins, Lucy Boynton
Apostle is a slow-burning film about a man named Thomas (played by Dan Stevenson) who pretends to join a remote island community to find his kidnapped sister. The movie is filled with strange customs and tensions that finally lead to chaos. Directed by Gareth Edwards, known for his action scenes, the film offers mystery and critique of human control over nature. Despite its length, its beautiful setting and design make it captivating. It's a colorful, creative movie that fans of Crimson Peak would enjoy.
Cam (2018)
Run Time: 1 hr 35 min | Director: Daniel Goldhaber
Cast: Madeline Brewer, Patch Darragh, Melora Walters, Devin Druid, Imani Hakim
Cam is a unique film about a webcam girl, Alice, whose online identity gets stolen, leading to a scary everyday life. She faces stalkers and the threat of exposure. When her account is hijacked, everything about her is mysteriously copied. The film explores identity in the digital age, with a focus on online presence. It's a thought-provoking and scary movie, not ideal for family viewing.
May The Devil Take You (2018)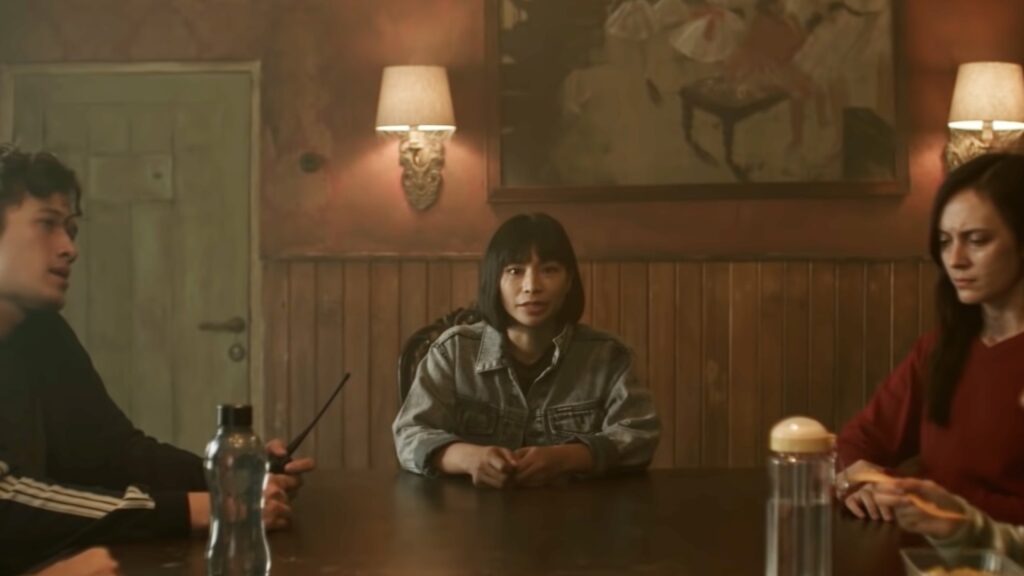 Run Time: 1 hr 50 min | Director: Timo TjahJanto
Cast: Chelsea Islan, Pevita Pearce, Ray Sahetapy, Karina Suwandhi, Samo Rafael
"May The Devil Take You," an Indonesian horror film, might have been overlooked in 2018 due to a busy horror film release schedule. The movie, created by Timo TjahJanto, is about a disconnected family who face an Evil Dead-like horror while visiting their estranged father's house. While the film can be a bit extreme at times, its combination of practical effects and CGI results in intense moments that make it worth watching.
Death Note (2017)
Run Time: 1 hr 41 min | Director: Adam Wingard
Cast: Nat Wolff, LaKeith Stanfield, Margaret Qualley, Willem Dafoe
Death Note is a movie based on a famous Manga comic. It's about a high school kid named Light Turner (played by Nat Wolff), who finds a special notebook named "Death Note". This notebook lets him kill people just by writing their names and how they die. Ryuk, a death god voiced by the spooky-sounding Willem Dafoe, comes with the notebook and encourages Light to use it however he wants. In the end, Death Note is a horror movie that mixes mystery with magical elements. Even though it's quite different from the original Manga, Death Note is a fun movie that also makes you think about human nature and if doing something wrong is okay if it leads to a good result
Gerald's Game (2017)
Run Time: 1 hr 43 min | Director: Mike Flanagan
Cast: Carla Gugino, Bruce Greenwood, Chiara Aurelia, Henry Thomas, Kate Siegel
"Gerald's Game" is a gripping movie by Mike Flanagan, based on a Stephen King story. Carla Gugino plays Jessie, a woman handcuffed to a bed after her husband Gerald has a heart attack during a kinky game. As she battles for survival, she confronts imaginary threats and past memories, realizing she must save herself. The film is a well-rounded mix of strong acting, unique visuals, and scary moments. It also covers intense topics like marital tension and Jessie's past, making it a tense and clever watch. This successful collaboration led to more adaptations of Stephen King's work by Flanagan.
Ravenous (2017)
Run Time: 1 hr 36 min | Director: Robin Aubert
Cast: Marc-Andre Grondin, Monia Chokri, Charlotte St-Martin, Michelin Lanctot, Brigitte Poupart
"Ravenous" (2017), a unique French-Canadian zombie movie, tells a survival story packed with scares, laughs, and striking visuals. The zombies here are unique – they shriek and collect their belongings to create monuments. The film focuses on three groups fleeing cities in Quebec. It's not about man's evil but about hope and determination during a crisis. It's a touching yet intense movie with humor, thanks to the actors like Marc-Andre Grondin, Charlotte St-Martin, and Martin Heroux. Even if you're not a zombie film fan, you might enjoy "Ravenous".
The Ritual (2017)
Run Time: 1 hr 34 min | Director: David Bruckner
Cast: Rafe Spall, Arsher Ali, Robert James-Collier, Sam Troughton, Paul Reid
"The Ritual", a 2017 Netflix horror movie, emphasizes how feeling helpless can be as scary as feeling isolated. It starts with Luke, who fails to save his friend Robert during a violent store attack. Later, during a memorial hiking trip, Luke and his friends lose their way in the woods, feeling helpless again. The movie suggests an unseen threat in the woods, using mysterious symbols and dwindling supplies to build fear. The film's high points are the inventive ways director David Bruckner shows Luke reliving his trauma, especially at the end. This is a different kind of creature horror film.
Veronica (2017)
Run Time: 1 hr 45 min | Director: Paco Plaza
Cast: Sandra Escancena, Bruna Gonzalez, Claudia Placer, Ivan Chavero, Ana Torrent
"Veronica" is a horror film from the creators of the popular Spanish franchise, REC. The story, set in 1990s Spain, follows Veronica who accidentally contacts a demon during an Ouija session meant to reach her deceased father. The demon begins haunting her family, forcing Veronica to seek help. The film stands out for its exceptional editing and camera work, providing a unique visual experience compared to REC. If you enjoy haunted house or possession films, you'll find Veronica intriguing.
Hush (2016)
Run Time: 1 hr 27 min | Director: Mike Flanagan
Cast: Kate Siegel, John Gallagher Jr., Michael Trucco
A writer decides to live in a house in the forest. While there, a masked killer starts following her. Sounds like a story you've heard in many movies before, right? But in this movie, the writer can't hear or speak, which makes the movie even more suspenseful. The movie is called Hush and is co-written and directed by the famous horror movie maker Mike Flanagan, so you can expect it to be really scary. The chase scenes are thrilling, and it's really scary to see Maddie, the writer, being surprised by the killer because she can't hear him coming. But the best part is when Maddie uses tools that people who can hear wouldn't think of, to surprise her attacker.
The Conjuring 2 (2015)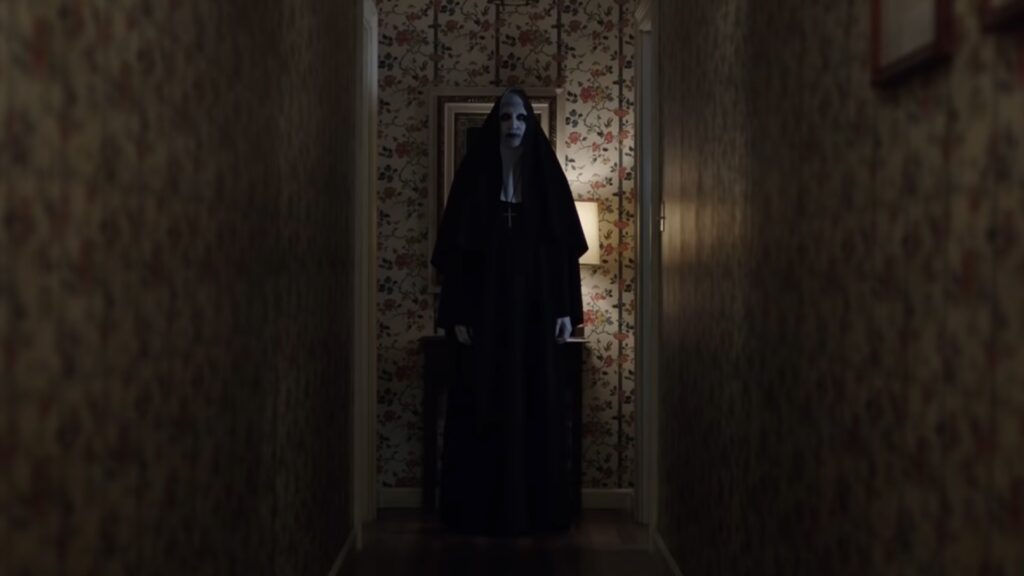 Run Time: 2 hr 14 min | Director: James Wan
Cast: Vera Farmiga, Patrick Wilson, Madison Wolfe, Frances O'Connor, Lauren Esposito
The Conjuring 2, directed by James Wan, feels similar to his previous work, Insidious. It continues the story of investigators Ed and Lorraine Warren who are helping a family in England. The possession of a child, played excellently by Madison Wolfe, is scary thanks to shocking images. The movie, based on a true story, introduces new creepy figures like The Nun, and adds an interesting twist by suggesting the haunting might be fake. Despite being a bit exaggerated, it's a daring movie that sets the stage for more films in The Conjuring series
Crimson Peak (2015)
Run Time: 1 hr 58 min | Director: Guillermo del Toro
Cast: Mia Wasikowska, Jessica Chastain, Tom Hiddleston, Charlie Hunnam, Jim Beaver
Crimson Peak, directed by Guillermo del Toro, is a vivid and spooky tribute to gothic romance tales. High-profile actors, grand set designs, and del Toro's distinct gothic style result in a uniquely eerie film. The movie takes time to develop its rich Victorian backdrop, with stunning costumes, dramatic lighting, and intense performances. The audience fears for the lead character as they are aware of her danger. Tom Hiddleston and Jessica Chastain play a wicked duo, scheming against Mia Wasikowska's character, Edith. The suspense lies in the secrets of Crimson Peak itself and whether Edith will survive. The film follows familiar gothic horror themes and unfortunately, some of its plot was revealed prematurely during a TV show appearance by del Toro.
Creep (2014)
Run Time: 1 hr 17 min | Director: Patrick Brice
Cast: Patrick Brice, Mark Duplass
Creep is a unique, documentary-style film about a videographer, Aaron, hired to record a dying man's message for his unborn child. However, Aaron starts to believe that the man, Josef, may not be sick but rather dangerously crazy. Duplass gives a creepy performance as the potential threat. The film features just two actors and its focus on personal horror makes it stand out. Despite being a mockumentary, it feels very real, making the viewer feel like they're watching someone slowly understand the danger they're in.
The Thing (2011)
Run Time: 1 hr 43 min | Director: Matthijs van Heijningen Jr.
Cast: Mary Elizabeth Winstead, Joel Edgerton, Ulrich Thomsen, Adewale Akinnuoye-Agbaje
The Thing is a spooky movie that comes before the original scary film with the same title. Director Matthijs van Heijningen Jr. honors John Carpenter by keeping the same creepy mood in this scary thriller. Mary Elizabeth Winstead plays a smart scientist working with a Norwegian research group in Antarctica, who accidentally find an alien spaceship frozen under the ice. Together with Sam Carter (Joel Edgerton), a military vet and helicopter pilot, the team at the remote Arctic base accidentally wake up the alien creatures. This leads to a fierce battle for survival.
Other Articles