1997 wasn't just another year; it was a cornerstone for horror movies in the U.S. The year brought us the suspense-filled sequel 'Scream 2', reminding everyone why staying home sometimes felt safer. Then there was the unsettling aftermath of a deadly secret in 'I Know What You Did Last Summer'. 'Event Horizon' took us on a terrifying journey through the depths of space, while 'Leprechaun 4: In Space' added its unique blend of humor and horror in the most unexpected settings. Meanwhile, films like 'Mimic' explored the monstrous consequences of playing with nature. Dive into our curated list of '1997's Most Terrifying Horror Films' and step back in time to when these classics had us clutching our popcorn in theaters across the nation.
Scream 2
Director: Wes Craven
Cast: David Arquette, Neve Campbell, Courteney Cox, Sarah Michelle Gellar, Jamie Kennedy, Laurie Metcalf, Jerry O'Connell, Elise Neal, Timothy Olyphant, Jada Pinkett, Liev Schreiber.
Just two years after those chilling events of the first movie, our heroine Sidney Prescott (played by the talented Campbell) is back, but this time she's hitting the college scene. Just when she thought it was safe, a fresh Ghostface emerges, causing mayhem during a movie night for the college kids watching 'Stab' – yep, a film inspired by Sidney's very own scary story from 'Scream'!
Wishmaster
Director: Robert Kurtzman
Cast: Tammy Lauren, Andrew Divoff, Robert Englund, Chris Lemmon, Wendy Benson, Tony Crane, Jenny O'Hara, Ricco Ross, Gretchen Palmer.
Imagine walking into an old antique store with your college buddies, finding a captivating mirror, and…unleashing an evil djinn. That's exactly where Alexandra Amberson (portrayed by Lauren) finds herself. This djinn isn't just about granting wishes – there's always a terrifying catch! And the consequences? Deadly!

Alexandra and her main man, Nick Merritt (played by Lemmon), are in a race against time. They've got to outwit this crafty djinn before he completes a terrifying trio of wishes, bringing his sinister squad to our world.
I Know What You Did Last Summer
Director: Jim Gillespie
Cast: Jennifer Love Hewitt, Sarah Michelle Gellar, Ryan Phillippe, Freddie Prinze Jr., Julie Bowen
Picture this: A year after a deep, dark secret, a group of friends start receiving eerie notes. Somebody knows. And worse? They're out for revenge, picking off the group one by one. Dive into this iconic slasher ride with 'I Know What You Did Last Summer'.
Event Horizon
Directors: Paul W.S. Anderson
Cast: Laurence Fishburne, Sam Neill, Kathleen Quinlan, Joely Richardson, Richard T. Jones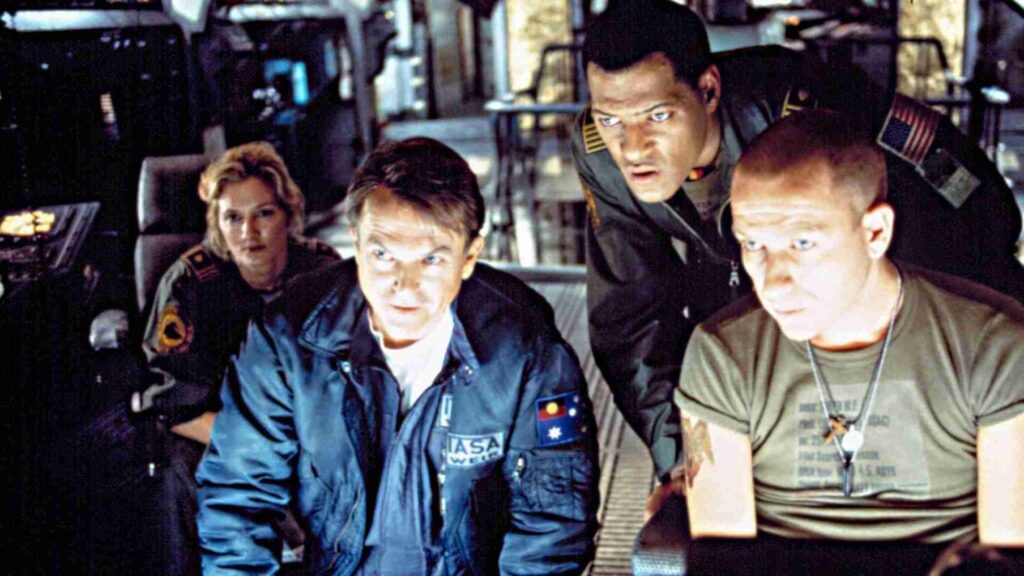 Captain Miller (Fishburne) and his crew think they're on a rescue mission, but the Event Horizon ship has other plans. It's dark, mysterious, and maybe… alive? This isn't just another space journey; it's a chilling dive into the idea of Hell itself.
The Relic
Director: Peter Hyams
Cast: Penelope Ann Miller, Tom Sizemore, Linda Hamilton, Gabriel Byrne
At the Museum of Natural History, things go haywire when a security guard's body is discovered. Enter Dr. Laura Segers (Miller) and her scientific squad, faced with a creature beyond imagination – smart, shape-shifting, and super scary
Leprechaun 4: In Space
Director: Brian Trenchard-Smith
Cast: Warwick Davis, John Leguizamo, Leela Savasta, Robert Englund
Buckle up for a space adventure like no other! Our mischievous Leprechaun (Davis at his finest) accidentally hitches a ride on a spaceship. But instead of seeking pots of gold, he's up for some intergalactic mischief.
Uncle Sam
Director: William Lustig
Cast: William Sadler, Robert Englund, Linnea Quigley, Kane Hodder
Fourth of July, a bunch of teens, and an unexpected gate-crasher – Uncle Sam. But this isn't your regular patriotic figure; he's out to punish the not-so-patriotic. Dive deep into a film that doesn't just scare but also makes you think.
Mimic
Director: Guillermo del Toro
Cast: Mira Sorvino, Jeremy Northam, Josh Brolin, Charles S. Dutton, Giancarlo Esposito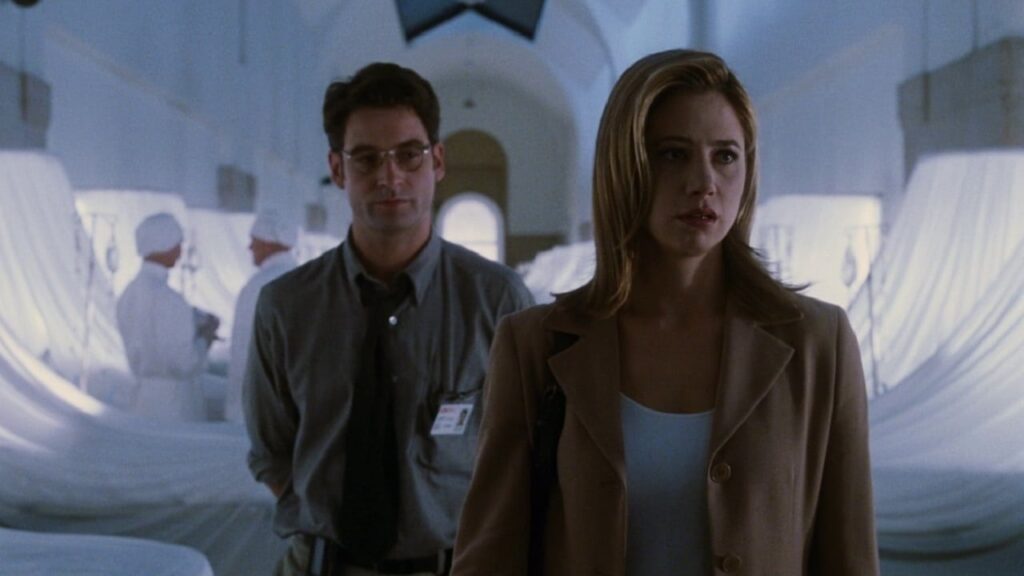 Imagine a world where kids are being ravaged by a lethal disease. In comes Dr. Susan Tyler (Sorvino), with a bioengineered insect solution. But, like all best-laid plans, things go haywire. 'Mimic' dives deep into the dark waters of bioengineering and its unintended consequences.
An American Werewolf in Paris
Director: Anthony Waller
Cast: Tom Everett Scott, Julie Delpy, Vince Vieluf, Michael J. Fox
David Kessler's (Scott) Parisian trip turns hairy (literally) when a werewolf encounter changes his life. 'An American Werewolf in Paris' is a delightful cocktail of comedy and horror, serving up laughs and lycanthropic lore.
Phantoms
Director: Joe Johnston
Cast: Ben Affleck, Peter Berg, Charlize Theron, James LeGros
A deserted town, a string of eerie deaths, and a creature that mimics voices. The stage is set in 'Phantoms', a chilling interplay of science fiction and horror. With a lineup of characters that include a sheriff, doctor, and geologist, the story takes us on a race against time to decode the enigma of an ancient evil.
The Minion
Director: Tobe Hooper
Cast: Robert Englund, Kari Wuhrer, Kane Hodder
Discovering an age-old key and the skeleton of a Templar Knight leads to unspeakable horrors in 'The Minion'. The demonic entity, capable of hopping from one human host to another, seeks the key to unlock the gates of hell. Low on budget but high on scares, the film impresses with its practical effects and creative deaths.
Nightwatch
Director: Ole Bornedal
Cast: Ewan McGregor, Nick Nolte, Josh Brolin, Patricia Arquette, Stellan Skarsgård
The stillness of a morgue at night. The isolation. The cold steel tables bearing the departed. Martin Bells, a law student and night watchman, soon realizes that his new job brings more than just solitude. 'Nightwatch' delves deep into psychological horror, challenging our notions of guilt, reality, and redemption.
Find Your Horror Faves on FolksMedia: Streaming Made Simple!
Looking for horror movies like "Phantoms", "The Minion", and "Nightwatch"? Check out FolksMedia to find out where they're streaming. This easy-to-use app tells you which movies are available on platforms like Netflix, Amazon, and more. Plus, with special features like a built-in remote, watching is a breeze. Download FolksMedia now and enjoy your favorite movies without the guesswork!
Other Articles