Get ready for Netflix's latest gem, 'Love at First Sight'. This delightful romantic comedy brings a much-loved book to life right before your eyes. The movie is loaded with a star-packed cast, an engaging story, and top-notch directing. It's all set to change your thoughts about luck, destiny, and yes, love at first sight. This blog digs deep into all the exciting details about this highly anticipated Netflix film, covering its release date, exciting trailer, all-star cast, captivating story, its origins, and the creative folks who brought it all together. As two strangers stumble upon each other and instantly click, this film beautifully shows how fate can turn people sitting next to each other into life-long partners.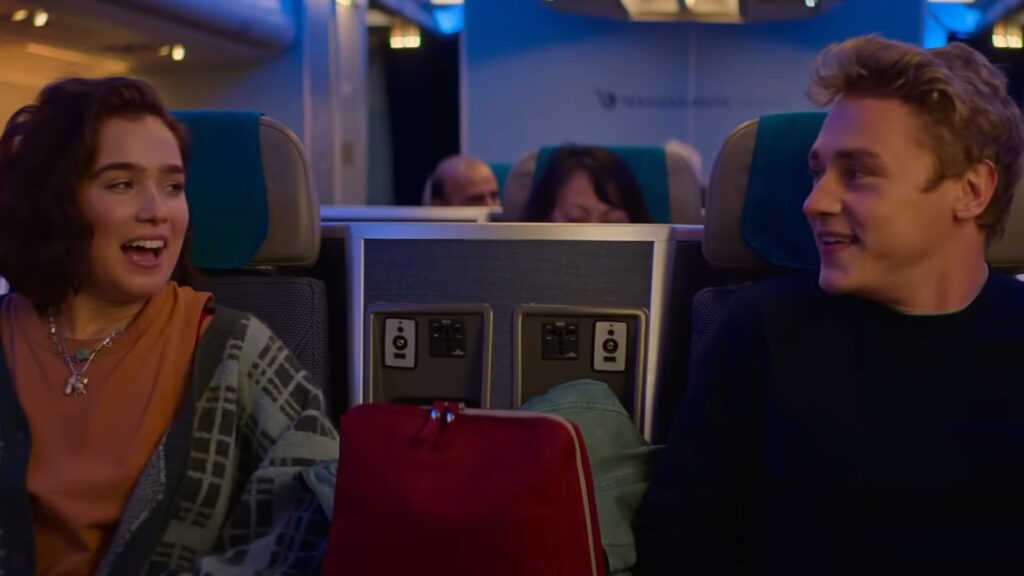 When will 'Love at First Sight' be released?
Eager fans can mark their calendars as 'Love at First Sight' is set to premiere exclusively on Netflix on September 15th.
Has a trailer for 'Love at First Sight' been released?
The exciting trailer for 'Love at First Sight' has already been released, giving viewers a sneak peek into a heartwarming story that begins at JFK Airport, NYC. The tale soars when two people meet by chance, setting off a chain of feelings and links that shape this love-filled journey.
Casts of 'Love at First Sight'?
'Love at First Sight' brings together a group of well-known actors who truly shine. Haley Lu Richardson, who you might remember from 'Five Feet Apart' and 'The Edge of Seventeen', and who will soon be seen in HBO's 'The White Lotus', will play the character Hadley. Ben Hardy, who starred in 'X-Men Apocalypse' and Netflix's '6 Underground', will play Oliver.
The star-studded cast also boasts names such as Jameela Jamil, known for 'The Good Place' and 'She-Hulk', who will serve as the film's narrator, and Rob Delaney, celebrated for his roles in the Prime Original 'Catastrophe' and 'Deadpool 2'. Dexter Fletcher, known for 'Rocketman' and 'Eddie the Eagle', is cast as Val, and Sally Phillips, famous for 'Pride and Prejudice and Zombies' and the 'Bridget Jones' movies, will play Tessa Jones.
Adding to our main stars are:
David Rubin (known for 'Judy') as Dr. Harrison Doyle
Tom Taylor (known from 'The Dark Tower') as Luther Jones
Jessica Ransom (known for 'Horrible Histories') as Bridesmaid Bertie
Ibinabo Jack (known for 'Vera') as Bridesmaid Shanti
What is the storyline of 'Love at First Sight'?
The story unravels with Hadley Sullivan (played by Haley Lu Richardson), a young literature-lover, who embarks on an adventure from NYC to London. This adventure soon takes an unexpected turn when she comes across Oliver (played by Ben Hardy), a charming statistics major. As their connection deepens, the question lingers – will destiny step in and turn these seat mates into soul mates? Tune into Netflix to find out!
Is 'Love at First Sight' based on a novel?
Indeed! 'Love at First Sight' is a remarkable adaptation of Jennifer E. Smith's acclaimed novel, "The Statistical Odds of Love at First Sight". The plot introduces the appealing possibility of accidental encounters leading to love at first sight
Who are the creators behind 'Love at First Sight'?
This enchanting film comes from the brilliant minds of Vanessa Caswill, director of the 'Little Women' miniseries, and Katie Lovejoy, known for her work on 'To All the Boys: Always and Forever.' Aubrey Bendix, British actor, and a prominent name in the industry, also plays a significant role as a co-producer.
It's important to note that what makes the characters in this movie, Hadley Sullivan and Oliver, so real to us isn't just their romantic meetings but their normal day-to-day lives. Their story isn't just about love; it's a showcase of life's unexpected beauty, often showing up in surprising ways like love at first sight.
With an intriguing trailer and a brilliant cast, 'Love at First Sight' has everything to be a big hit. So get ready for this emotional journey. This movie is a heart-touching joy that will make you believe in the incredible power of love and fate.
FolksMedia: Your Ultimate Companion
FolksMedia is a simple app that puts your favorite shows and films from top streaming platforms in one spot. With it, discovering beloved content like 'Love at First Sight' becomes easy. Plus, it includes a handy remote control feature and rewards for regular use, making it an engaging hub for movie and TV enthusiasts
Other Articles